Locate in central tropical region, surrounded by pristine rain forest , make us accessible to the best source of tropical m
osses, liverworts and related matter. Among over 50 species occur in our growing area, o
ur selection is the ones have been proven they successfully adapt to terrarium conditions.
Despite the fact that mosses and liverworts are commonly and recovery resource here, offering cheaper price of fresh harvest always cause difficulties, particularly for export. What we offer is artificially propagated plants from our subcontract nurseries under our growing standard.
As they are from tropical climate, all types need warm (above 15 Celsius degrees, even all marked as intermediate growers) and relatively high humidity to grow well. Many types are ideal for ground cover, while a few species ideal for branch or rock cover. Typically they perform exceedingly well under 9,000 - 15,000 k. tubes.
For the mosses, typically what we ship is
2" x 3"
or
"4" x 6"
portion. See examples below;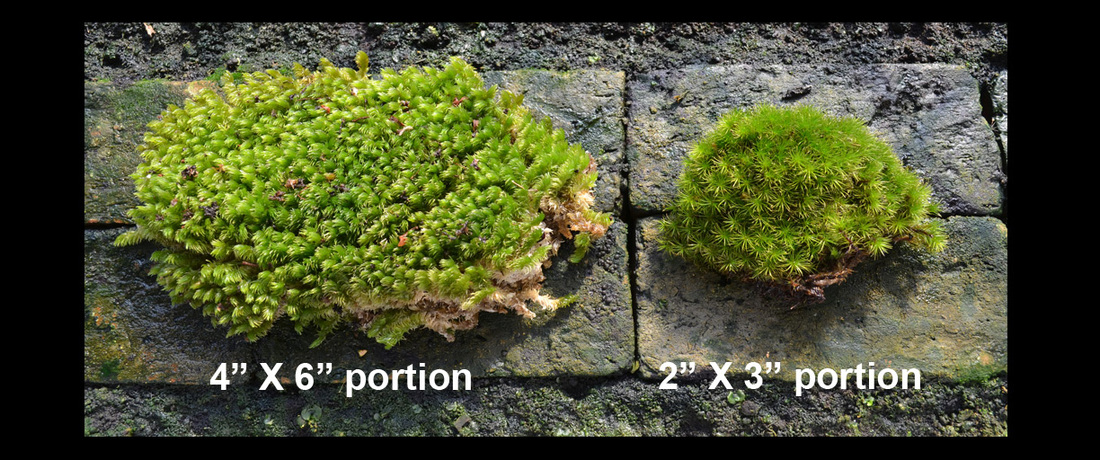 We offer 3 options of packages in order to serve your demands;

Small (100-150 g.) : Approximately 3 portions (2"x 3") or 1 portion (4" x 6")
(Handling charge is $2.00 per package)

Medium (250-300 g.) : Approximately 6 portions x (2"x 3") or 2 portions (4" x 6")
(Handling charge is $4.00 per package)

Large (500-600 g.) : Approximately 10 portions (2"x 3") or 4 portions (4" x 6")
(Handling charge is 6.00 per package)
*shipped in S package or larger

Liverwort will be shipped in pot or bared root, depends on your preference (or your country requires). See the offer size on each item (handling charge is $1.50, same rate to other plants).
---
By click on each image, it will direct you to an individual item description, showing more information, including offered size and price.

OUR SHOPPING CART SYSTEM IS STILL NOT ENABLED. PLEASE PLACE AN ORDER USING DOMESTIC OR INTERNATIONAL ORDER FORM WE APOLOGIZE FOR INCONVENIENCE.