International Shipping information
We ship plants anywhere, anytime, and can likely send you plants no matter where in the world you happen to live. We have been shipping internationally for 7 years with great success, and only few problems.

We provide two options of international shipping;

Non-paperwork shipment : Totally at customer's risk. Recommended for a small order.

Paperwork shipment : We provide a Phytosanitary Certificate written by export plant quarantine service (on behalf of Thailand Department of Agriculture). This is the basic document required for import plant material. The cost of it is $30.00 per shipment. We can provide this document and other necessary paperwork at no cost for order over $350 (not included shipping and relevant charges). Note that the proceeding usually takes 4-5 working days. If you place order earlier this week by 12 a.m. Friday, your order will be shipped next week, or the following week after that time. You can see currently expected shipping time on the Homepage.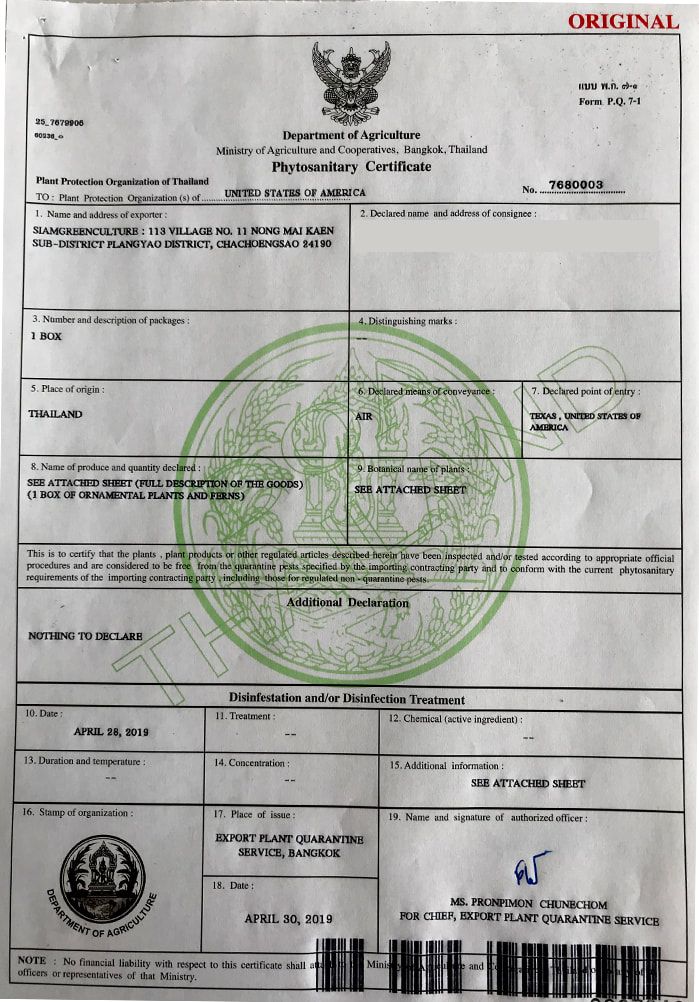 You provide us with import permit, if necessary.
Some countries require an import permit to accompany the plants being shipped. Check with your local authorities to see if you need an import permit. You may mail, scan and email to us. Please note that permits must have English translation for proper phyto documents to be written.
WHERE WE USUALLY SHIP
AUSTRALIA
An import permit must accompanied with the shipment. Plants will be hold for post-quarantine program once arriving in your country. The timing is vary, depending on plant families. Importers are responsible for inspection fee and relevant charges during this period. See further details about your country import measures and regulations here
www.agriculture.gov.au/import/goods/plant-products/how-to-import-plants
BRAZIL
No hassles with export live plant material. A phytosanitary certificate can be written without a permit. Express shipping is highly recommended as Priority mail takes too long time.
CAMBODIA
No export paperwork needed and potted plants can be shipped.
CANADA
Import permit is required and seem not overly difficult to obtain.
Evenso, if you choose UPS shipping option, we do not require any documents from your side. Our freight agent in Toronto will be responsible for these.
It is advised to order during spring-summer months. Although we use insulated box and sometimes with heat pack, the plants affected by extremely cold weather may shocked and difficult to recover.
CHINA
Land transport is the best way to send plants to your country. We are in contact with reliable export agents. Please contact us at info@siamgreenculture.com to discuss about this.
CURACAO (NETHERLANDS ANTILLES)
No import permit required and limitation. However, we do not have express mail service direct to your islands. Neither Priority nor registered mail also spends too long time (over 3 weeks!). It seems that freight cargo (via KLM airlines) is the best courier bringing the plants to you in 2 days. Customers who would like to place a small order can send your inquiry to local fern wholesalers. There are a few sellers order regularly.
EUROPEAN UNION COUNTRIES (including United Kingdom)
No import permit required and limitation. Only bared root plant can be shipped. Customers are subjected to pay taxes, duties and inspection fee upon arrival. The cost is around EUR 20.00-50.00 per shipment. Please note that due to hassles with customs, we do not service to these countries;
France (over 20 plants), Italy, Portugal, Spain, Sweden and The Netherlands.
HONG KONG
Only a basic export paperwork (a phytosanitary certificate) required. Potted plants can be sent.
INDIA
To make a legitimate shipment, an import permit is required.
ISRAEL
Sorry, meeting the requirements has proven impractical and too costly.
JAPAN
No import permit and limitations. Bared root plants can be shipped.
MALAYSIA
An import permit is necessary, otherwise it will cause hassles upon arrival. See further details about your country latest import measures and regulations here www.maqis.gov.my/en_US/tumbuhan-prosedur-import
NORWAY
Bared root plants can be shipped. Though suggested, no import permit is required.
RUSSIA AND FORMER MEMBERS OF SOVIET REPUBLIC
Import permit is necessary for legitimated shipments. By the way, we usually send domestic shipments to many clients when they spent holiday times here (self-bringing back). Shipping rates are much cheaper than international, too! Contact us if you are interested.
SINGAPORE
Only bared root plants can be shipped. An import permit can be applied upon arrival, but seems not necessary for a small order.
SOUTH
KOREA
An import permit is not necessary. Only bared root plant can be sent.
SWITZERLAND
Bared root plants can be sent. No import permit required for non-commercial purpose.
​
TAIWAN
To import plant legally, you need to contact local authorities to apply for a permit, otherwise plant will only be seized and destroyed upon arrival in your country (even sent with a proper phytosanitary certificate!). If you are considering to make a legitimate shipment, please contact us for further details. We gladly to ship even though there are some difficulties!
TURKEY
Rooted plant can be shipped without permit.
UNITED
ARAB EMIRATES
No import permit needed and no restrictions. Rooted plants can be shipped.
UNITED
STATES
With new USDA regulations, import under 13 plants does not need a USDA import permit to accompany with a phytosanitary certificate (for 48 continent states)
See details here
Customers from Hawaii, Alaska, Guam and other territories please contact your local authorities before ordering so that they might need special permits, declarations or treatments.
VIETNAM
Import permit is highly recommended, even a small order. Non-paperwork shipment does not work well.
ALL OTHER COUNTRIES
We do ship to many more countries than those listed above.
Please contact your local authorities to see if import permit are needed and how plant must be shipped.
HOW
WE SHIP
We ship via reliable couriers, with 4 service options;
Private courier

The fastest and most reliable service initially used during the Covid-19 pandemic. We combine several orders to one shipment and send it to our agents in the destination countries. They are responsible for customs clearcance, import duties and other necessary processes before forwarding the orders to local clints via DHL or UPS. Available to Canada, European Union countries, Norway, Reunion Island, Switzerland and United Kingdom.
Express mail (EMS)
Fast and reliable service operated by Thailand Post, guarantee delivery in 3-5 days to zone A, B, C, D, F and 5-8 days to zone E. However it does not available for all destinations, particularly in remoted areas.
Priority
mail
Available to more destinations than express mail. Usually takes 8-10 days to zone A, 8-12 days to zone B, C and 12-15 days to zone D, E, F. This is a good choice for areas that express mail service is not accessible. Also a good saver choice for sending hard leaf plants during spring-summer months.
Standard
mail
The most economy service available to destinations in Asia, Europe and Oceania, usually spends 10-18 days. However we cannot guarantee the timeliness of delivery for this service. Sometimes package arrived earlier or delayed. If you must receive your order by a particular date, this may only be possible if you request Express mail service.
All services listed above are tracking-provided services and require a signature for release.
Tracking number and other information will be updated by email once a shipment has been dispatched from our nurseries.

Larger orders, especially for wholesalers, we do ship via airlines freight, which is the more economy courier than air-mail for larger volume. By choosing this option, you may need to arrange an import broker for customs clearance upon arrival. It is also advised to be planned far enough in advance to have enough time reserving flights, freight cartage, etc.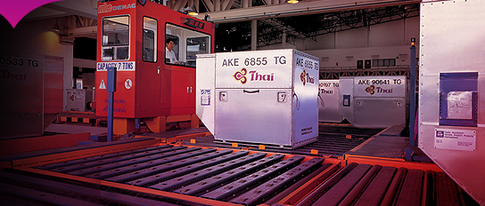 Typically a shipment is marked as merchandise (ornamental plants), unless instructed otherwise. This means invoice and packing list will be packed with your order! You may or may not be subject to duties or import taxes on your purchases. All documents will be attached to the box side in clear envelope. If you want to omit or do not want documents sent this way, you MUST tell us in advance.

Non-paperwork shipment will be sent without any documents. Package will be claimed as gift or commercial sample.
SHIPPING AND RELEVANT CHARGES

Frequently ship countries.
See details by click on the country flags below.
Other countries
See details about by click on the tables below;